Running the Yosemite Half Marathon
As an east coast gal, I was excited to run in California, I signed up for the Vacation Races Yosemite Half Marathon. I hadn't been to California in soooo many years. We're talking 9 years!  I managed to make this whole Yosemite Half Marathon thing a whole week trip.  I stayed in 4 different places, 3 Airbnbs, 1 hostel, and I drove around in 1 dope ass rental car.
Why California?
I was looking into races that were in national parks for awhile before I signed up for this particular half marathon. For the longest time I wanted to actually live in California. I did too, once upon a time, but then I got a cool job on a cruise ship, (we'll save that for another post) and after, I ended up moving back to the east coast, and I hadn't been back since. There's so much in California, and it's not just about Los Angeles either. They have all the cool national parks, and they have the giant trees! Giant Sequoia's and Coastal Redwoods!!!
I'm gonna be honest, I wanted to be able to run a lot of miles through a sea of trees!  I wanted to see Redwood Trees, and I wanted to be in a place where I could see a lot of different things not too far apart from each other.
Deciding
I got the idea about where I wanted to run a good year before I could actually take the trip. With half marathons registration starts early. Usually they sell out, and the earlier you register the cheaper it is. And entries are not cheap!!! So, a certain amount of saving has to happen. It cost me $165 to register for this run. I could have saved about $40 if I registered a couple months earlier, but I was on the fence. I hadn't decided if I wanted to actually go through with my trip.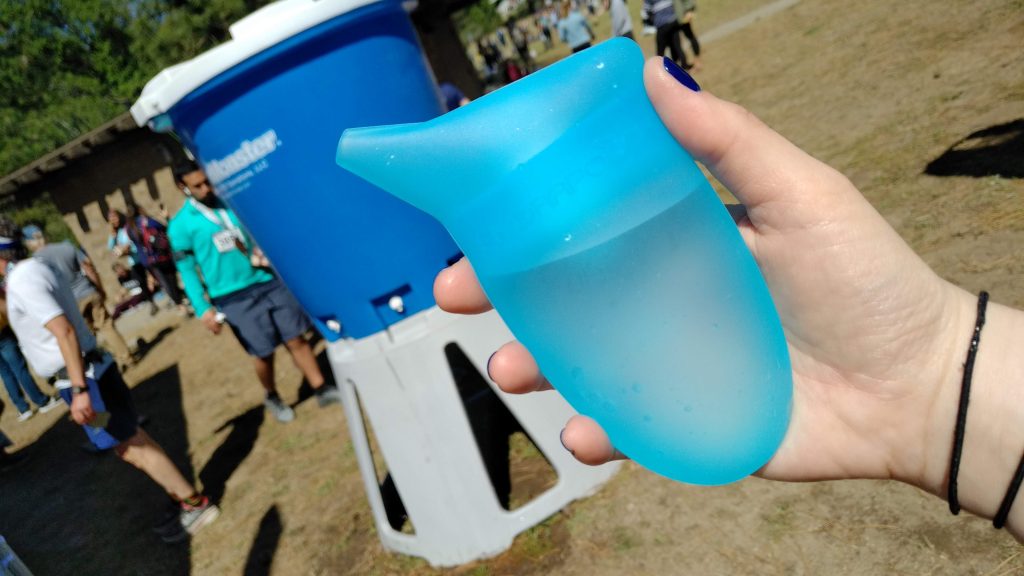 Other factors that led me to doing the Yosemite Half-Marathon was that it was actually in a national park, nothing beats running in nature! The company that manages the race were gluten-free conscious, and they were also environmentally friendly as well! For most races, there is a lot of waste with the cups that are used at the water stations. For Vacation Races runs, they use a Hydra-pouch. I loved this! It was free for all runners that registered too! I'm able to keep it and use it for other races I do.
At the water stations there is usually a sport drink as well, and being a celiac runner, Gatorade and Powerade do not agree with my body, which most races have. The Yosemite Half Marathon uses a gluten-free sport drink! At mile 9 and above I really can use a sport drink, and I did take advantage!!
Planning
Based on where the race actually was I couldn't just fly in and then just stay at an Airbnb nearby and then fly back. I'm a big fan of city hopping. The race largely takes place in Sierra National park, ending at Bass Lake. Fresno Airport is the closest airport to fly into, but so much more expensive. I didn't want to stay in one place the entire time either. I decided to fly into Burbank airport (3 hours away) rent a car, drive up for the race, and drive back. Along the way I was going to stay in Castiac, CA; Fresno, CA; North Fork, CA; Camp Nelson, CA; and a small stint in Los Angeles.
Actuality
Flying into my connecting airport the flight to Burbank had been cancelled. I was put on a flight to Oakland, and then into Burbank. I was kinda bummed I wasn't going to be there early. But Southwest folks are great. I couldn't complain. When I landed in Oakland I had a decent layover, about 90 minutes, and oh my goodness, I got off the plane I was just taken aback by the view through the airport windows! So pretty. The picture just doesn't do it justice.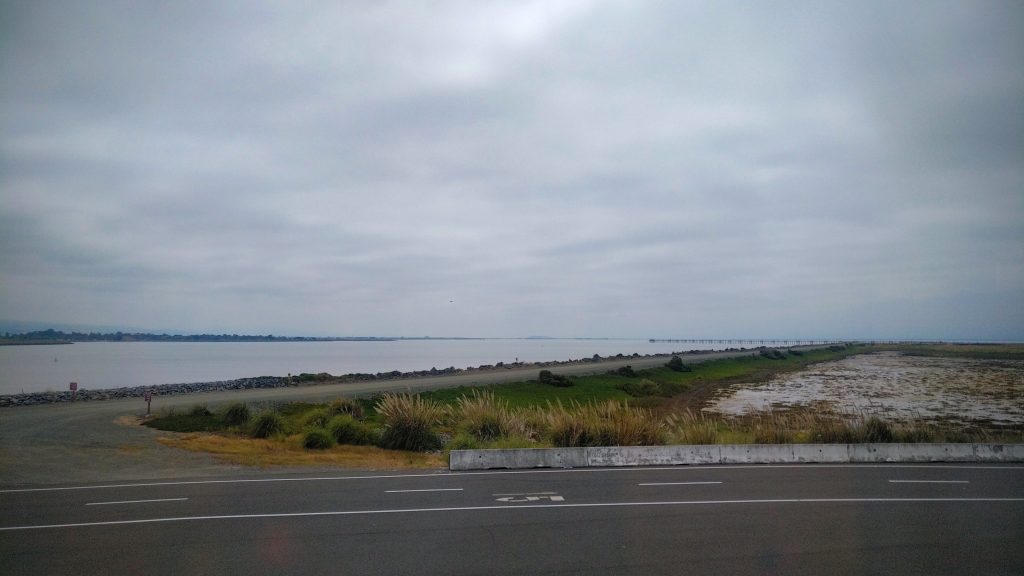 I felt the same way when I landed in Burbank. Maybe it's just the California views. It had been so long since I last was in California. I knew those mountains well, and missed them. I missed that view…even if it was from the Burbank airport rental car area on a cloudy day.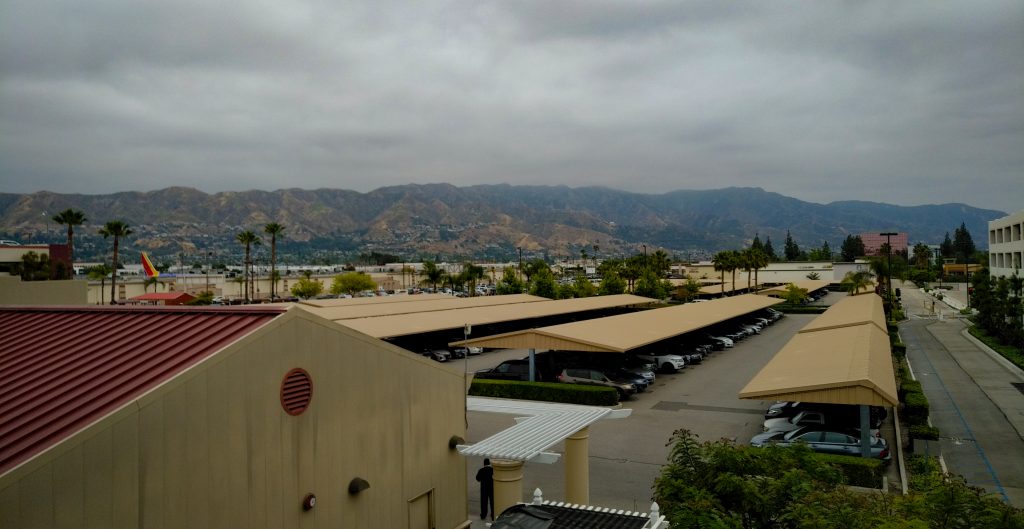 Learning Experience
Because of my cancellations, and an extra leg in flying, I am super late at this point. Way after my rental car reservation time. I figured it'll just stay there for me. I'm not sure why I was so dumb and didn't call them to let them know. When I got there they told me they gave away my rental car. BUT! They had 2 cars available. More expensive rental of course. The woman that worked there was very cheery, quietly whispered and leaned over the counter to me and said "I can give you my discount to make up the difference a little." Something about her told me she wasn't bullshitting me. It was still a little more than I intended, but I got a Black Dodge Charger to ride in for about a week.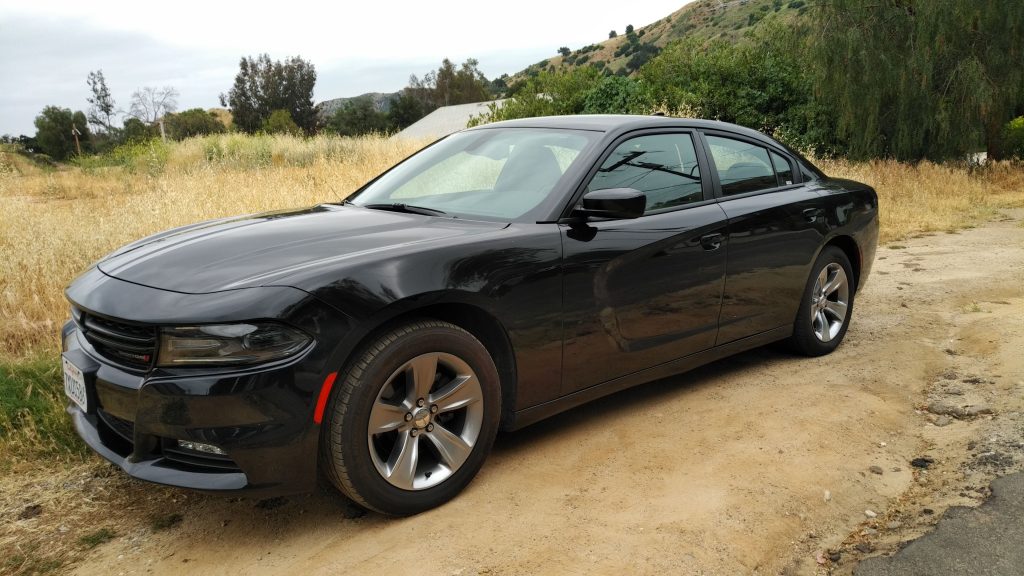 Gas Prices
I was sort of new to renting a car, and she offered the whole pay-for-your-tank-of-gas-now-and-bring-the-car-back-empty thing. She said it's $2.66/gallon and said "Right now the gas prices are way higher." I had no idea, no gas station close by the airport in sight to know the price of gas. So, I opted in. I went on faith. I prayed this woman wasn't the best damn actress that just didn't make it in Hollywood.
When I got my car, driving to see the first gas station, the price was $3.29/gallon. She did indeed save me money. My New York skeptic way of thinking took a break, and thankfully it panned out. Although, driving up to Fresno and around the national parks, the gas was cheaper. The cheapest gas: $2.86/gallon. Still higher. Filling up a Dodge Charger is not cheap! God bless that woman.
Castiac, CA
Castiac, CA. Where? Yeah, it's pretty unknown. It's an hour north from Los Angeles, I didn't want to stay in LA because I use to live there, plus hella expensive. I opted for a random little town, booked an Airbnb there, and even ran around the neighborhood. I feel like I really got to know the area. There's a Six Flags nearby and I loved seeing it in the distance driving around.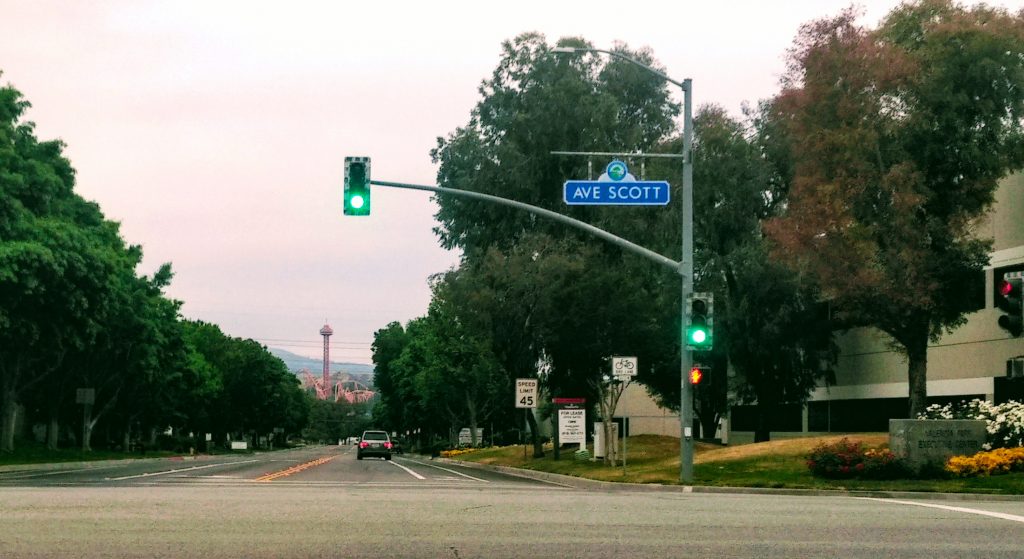 I got a bomb-ass manicure the next morning I was due to drive further north towards Bass Lake where the race expo was. However, I realized I left the next night open with no place to stay. That's when Fresno became part of the journey.  I got the best color nail polish! It was a deep, vibrant blue color called "Earth." Totally appropriate for the race. That manicure surely did last me awhile! I was also blown away with their technique on how they took off my previous gel manicure. Sorry- girly moment!
Castiac was good to me.
Fresno, CA
When I think of Fresno from this point forward, it's always going to make me laugh. The Airbnb I stayed in made me feel like a kid. Read my previous post to find out more about that. I struck gold running in Fresno! When I reach where I'm staying, I look up where I can run. Are there parks nearby? Are there trails, walking paths, or bike lanes anywhere near me? I saw this big park (Woodward Park) on a map and I took a chance. "There just has to be a path to run" I thought to myself. I drove to my next running destination and was pleasantly surprised to find such a gem of a trail/running path so close by!
The running view was beautiful, and such a long path too! It was slightly hilly, challenging in some parts, but I was just simply happy to be there so I took each part like a champ. Indeed, I was very lucky in Fresno.
North Fork, CA
North Fork was the place I stayed nearby the race. Vacation Races had suggested accommodation, and I stayed in the Jackass Hostel. It was about 10 miles away from the race parking lot. I never been a huge fan of staying in a hostel. But this one wasn't bad. The cool thing about it was the fact that most of everyone staying there was also a runner. So, when I had to wake up at 3am for my race I wasn't disturbing anyone.
North Fork was a super small town, after the Yosemite Half Marathon expo I was super hungry and a Mexican restaurant was close by, I wasn't picky at this point, and Mexican food isn't a bad choice for running the next day right? I really just wanted some veggies, protein, and rice. Which I did in fact get. The food was great, but you'd never know it from the outside.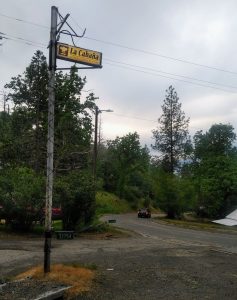 Race Day!
Waking up early for a race is not a strange occurrence, but 3am was a new record. With a 6am start time, I needed to make the first shuttle from the parking lot. Because there are thousands of runners they have to put the cars somewhere, and it can't be in the park. Yay logistics!  The shuttles are about a half hour from the race start in Yosemite National Park.  Finally at the parking area I was greeted with a crazy long line of cars to get in, and then an even longer line to get on the shuttles. Hundreds of runners just waiting for the next shuttle bus. I waited in that line for an hour!
The race organizers said they had a bus company no-show. Ummm what? I imagine big contracts like that don't get overlooked. Someone is definitely getting fired from Vacation Races. A lot of runners were very pissed-off. The optimists would say "The more waiting we do down here, is less waiting we do up there at the starting line." Which was true. The race start in Yosemite was a few thousand feet above the parking area. The temperature was about 15 degrees warmer where we waited. It was about 32 degrees at the starting line.
Organizers decided to do a rolling start because of the shuttle delay, and I remember when I finally got to the start, how I took a mental note of how cold it was, and how I was able to breathe properly up there, fearful of the whole higher elevation-oxygen level-thing. My next thought was "I felt good, let's do this!"
Running
The run started in Yosemite National Park, but that only lasted a few miles. Most of the run is in Sierra National Forest. While running in Yosemite, those miles were on trail. I'm not really a trail runner, trail running really hit my knees in a weird way. It wasn't painful, but I really noticed how much of a difference I felt in my muscles and bones. I also remembered how I need trail running sneakers, and how I wanted to do more of this trail running thing in the future.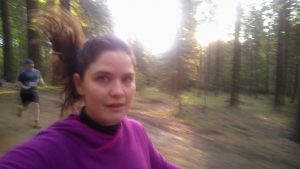 The course wasn't difficult. A lot of it was downhill. It was another reason I thought "Yeah, let's do this race!" It wasn't too drastically hilly.

Looking at the course map it doesn't look harmful at all. Running it is a completely different experience! There were some steep downhill stretches that really did my legs in. It got to the point where I begged for a little incline. Most of my leg energy was spent trying to make sure I didn't let gravity take me. AKA fall on my face! Just having control was a challenge.
Once at mile 10 we hit the town around Bass Lake. So beautiful, but boy did I get that slight incline. When you look at the last few miles in the course map it looks flat, but it was hilly. After going downhill for miles my legs were just like "Eff this!" This affected the runners around me, and I saw some tears, some walkers, and people who were definitely defeated. The stubborn in me didn't let me stop!
I refused to stop. I wanted this to be my best half-marathon so far. It was my 3rd half marathon, and the first two I wasn't proud of. I wanted to run this race the best I could.
The views were absolutely stunning along the whole course. I loved those Cedar Trees! Where we ran there weren't any Giant Sequoias, but I wanted to run in a sea of trees, and I got just that!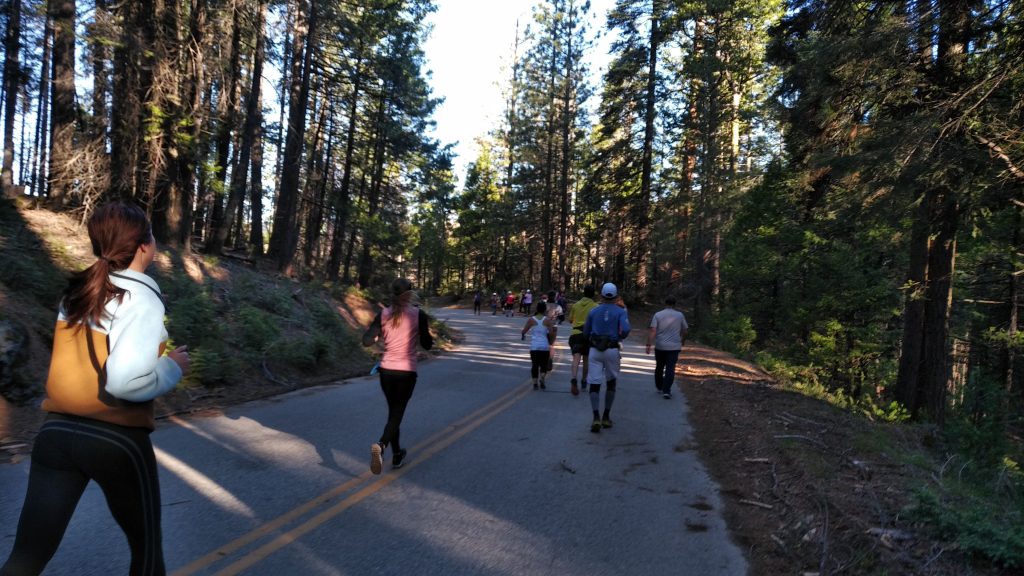 The Finish
When I crossed the finish line I was happy, and so surprised my name was announced by the race MC. Hurting, and very hungry I was handed my finisher medal, and I was impressed with the heft of it. It was a small party at the finish, and with the stunning view of the lake on a beautiful sunny day, the moment was just perfect.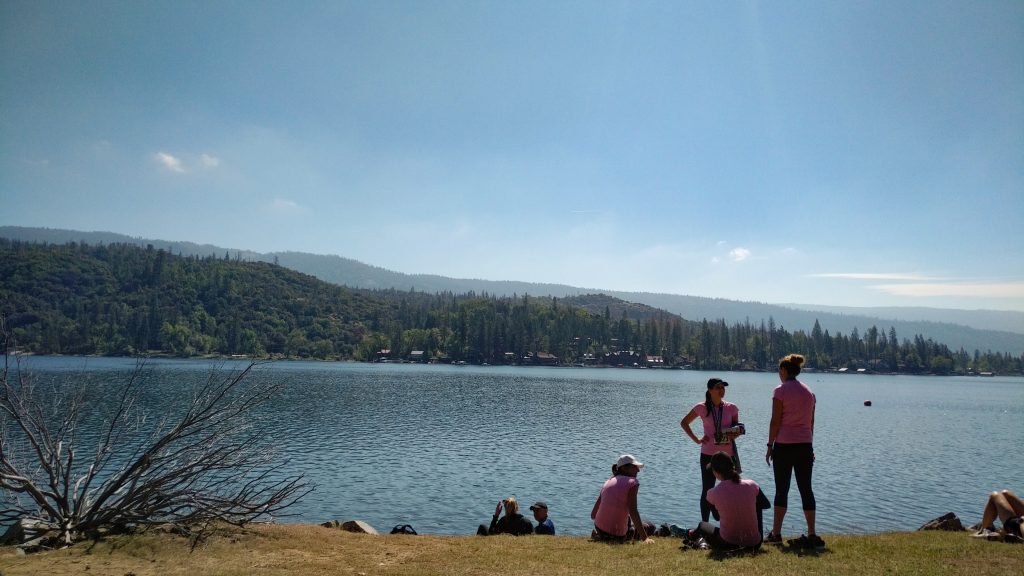 God bless those race organizers because we got a cool little finisher meal, and there were gluten-free snacks inside! Just when I thought everything was perfect they hit me with gluten free snacks post race! Even the chocolate milk they handed out was labeled gluten free!
I lived in this moment as long as I could.  I felt so catered to. Honestly an unreal experience. The Yosemite Half Marathon was good to me.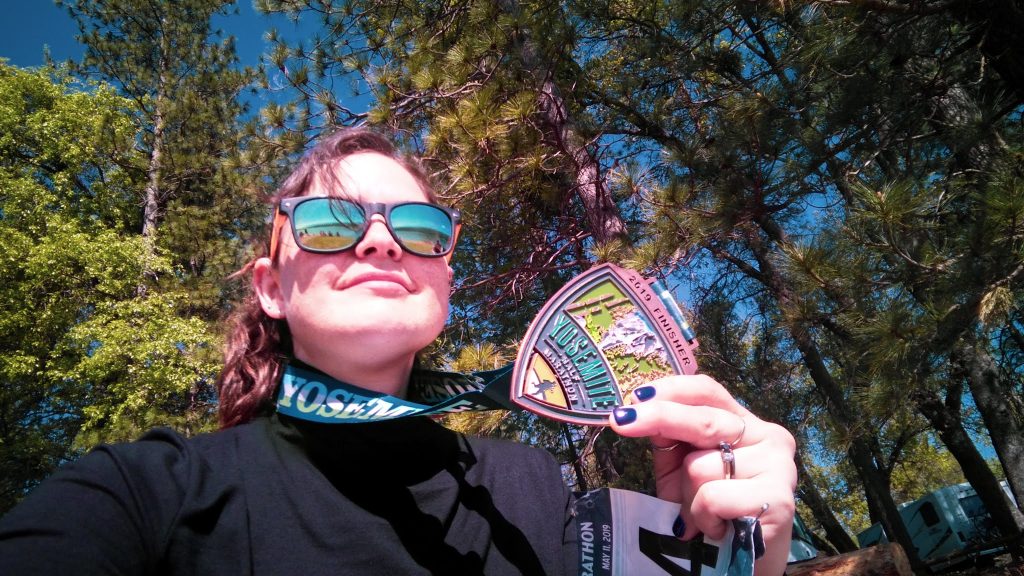 Post Race
My legs were in pain, it was about 130pm after all was said and done, and after waking up at 3am I needed my post race nap. Other runners wanted to take advantage of our location and actually see more of Yosemite. I couldn't, I wanted to nap first, and that's exactly what I did. I woke up at about 5pm. It was about an hour drive away to get to Yosemite National Park, and I made the trek up. Super sore, and groggy I made my way. I wanted pictures, and I wanted to see those Giant Sequoias!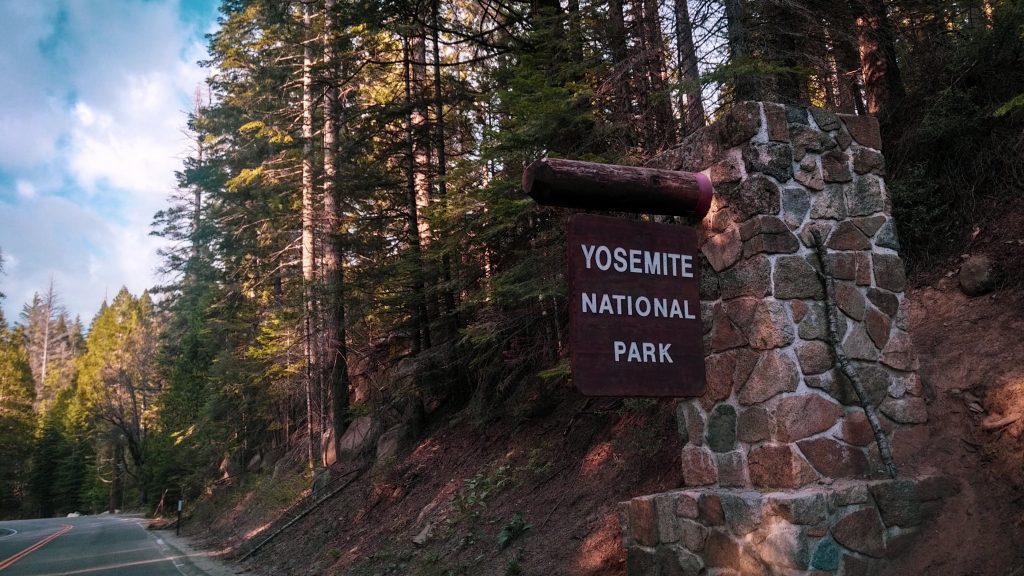 Yosemite National Park
There's usually a fee to get into the national parks, but because I got there so late (6pm) there was no attendant. And because of my chill arrival I wasn't able to get to the Giant Sequoia groves either. There's usually a shuttle that can take you there. And my legs wouldn't let me do that 4 mile round trip hike for the grove, and I didn't want to get stuck there at night either.  Bummed not being able to see those awesome Giant Sequoias, I pressed on to just wander.  Everywhere you look it's just breathtaking, and I was happy to be in such a beautiful, peaceful place.
Driving up the mountain, I  just kept going. Driving with no idea where I'm going just to see stuff. I really wanted to just find a place where I could stop and take a picture of the awesome view. Finally I found a spot. Took in the sunset, and I saw this family nearby watching the sunset together. It was a special moment.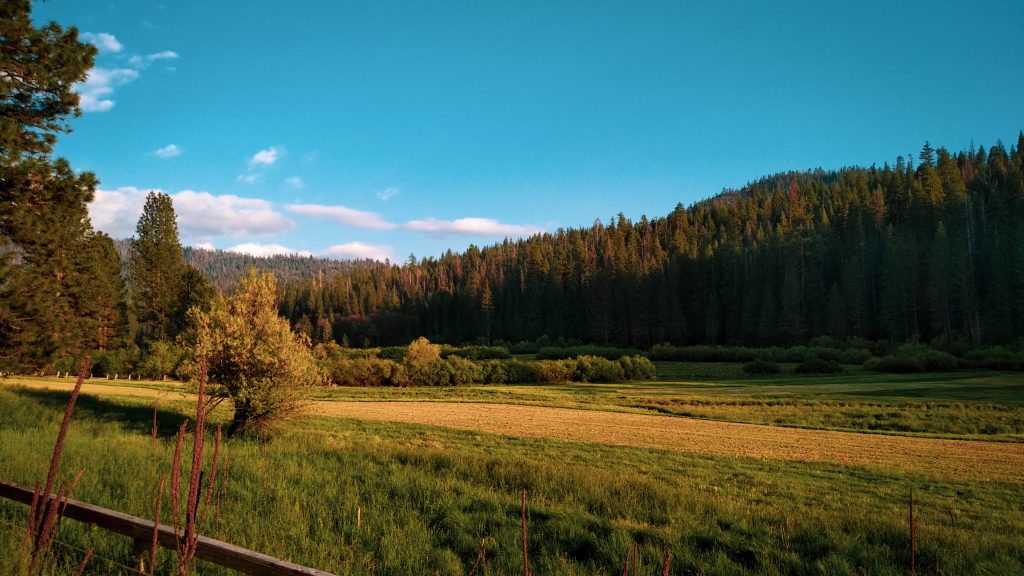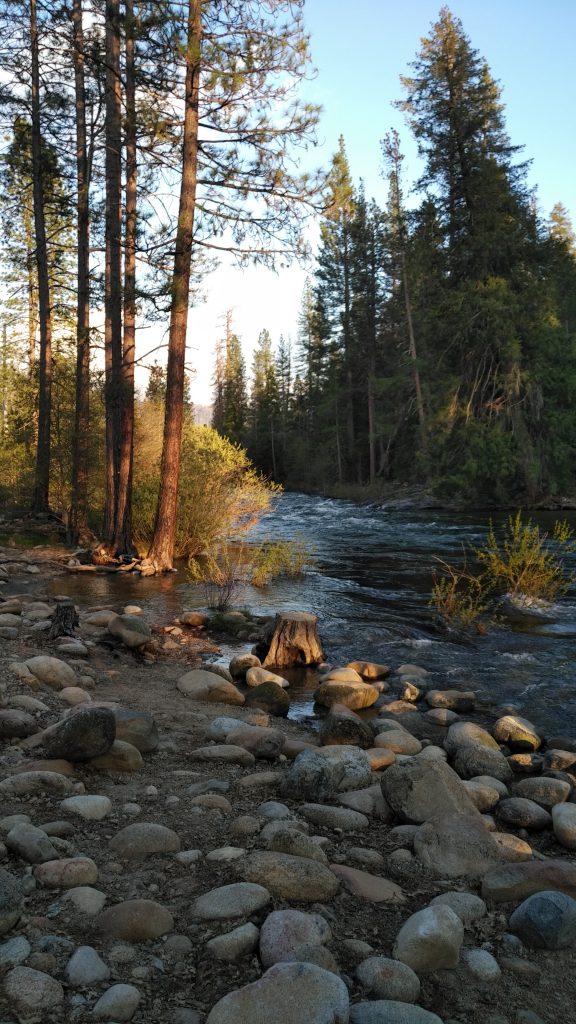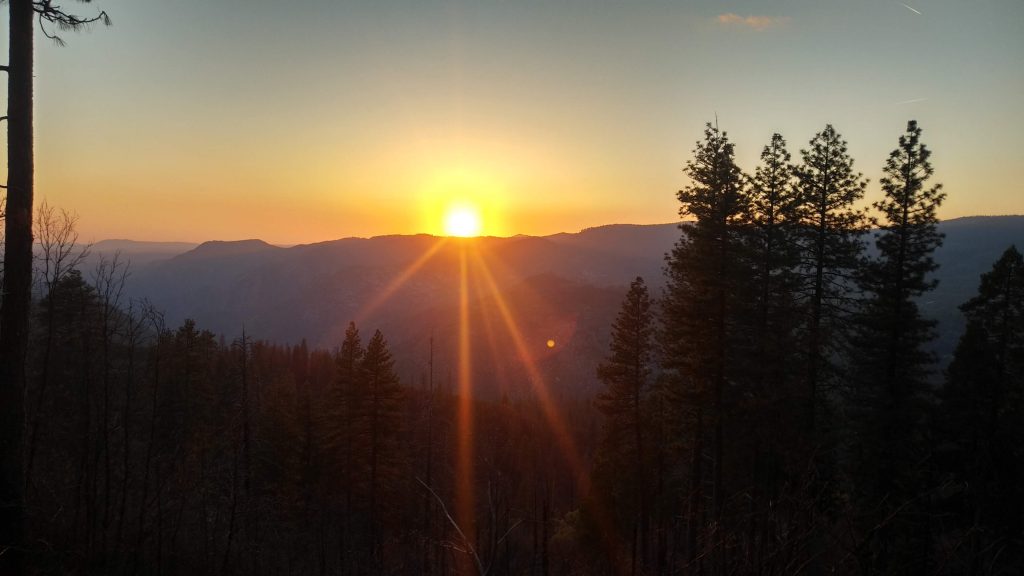 I took in the views, and it started to get dark so I made my way back down, and back to my hostel in North Fork. I was ready to leave the next morning to my last stop, Camp Nelson.
Camp Nelson
I was really excited for this destination, this was where I knew for a fact I was going to see Giant Sequoias! I know I sound obsessed, but these trees are rare, folks. C'mon who doesn't like giant trees that have been around for centuries?! They're fascinating!
The drive was a few hours south of Yosemite. I loved how the landscape completely changed, and absolutely pretty!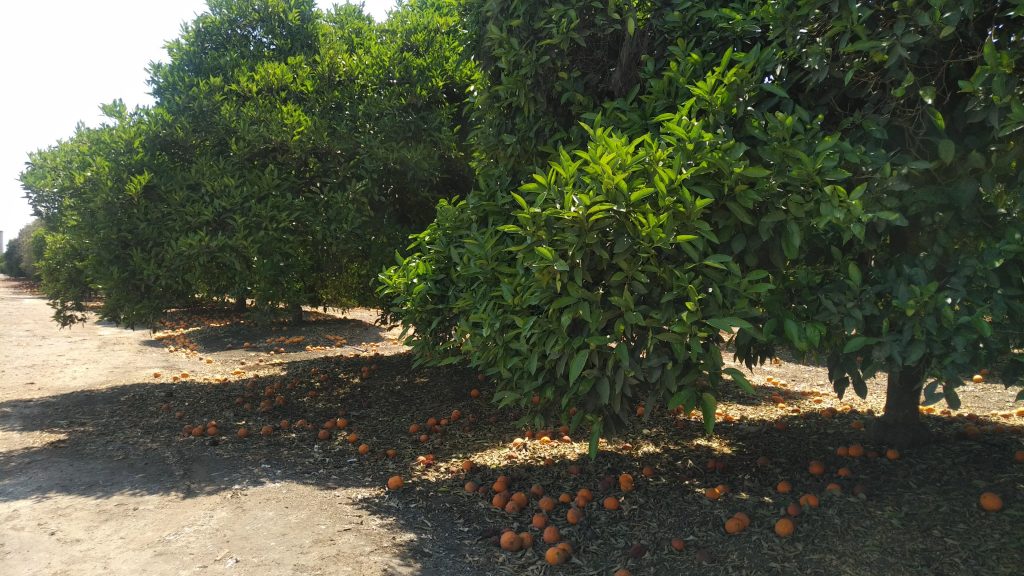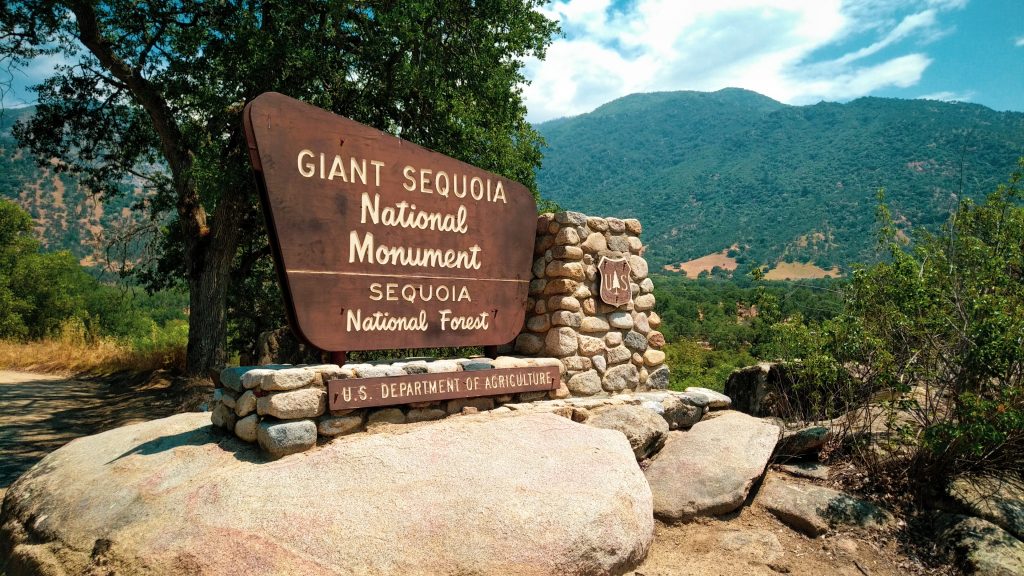 My host was amazing! You can read about her here in my previous post. She made me feel so welcome, and knew the area so well. Once there, with no cell reception or wifi, I opted to wander around. I found those Giant Sequoias, and a cool trail I could do a small recovery run. Pair that with my fear of wildlife, and it really became an adventure.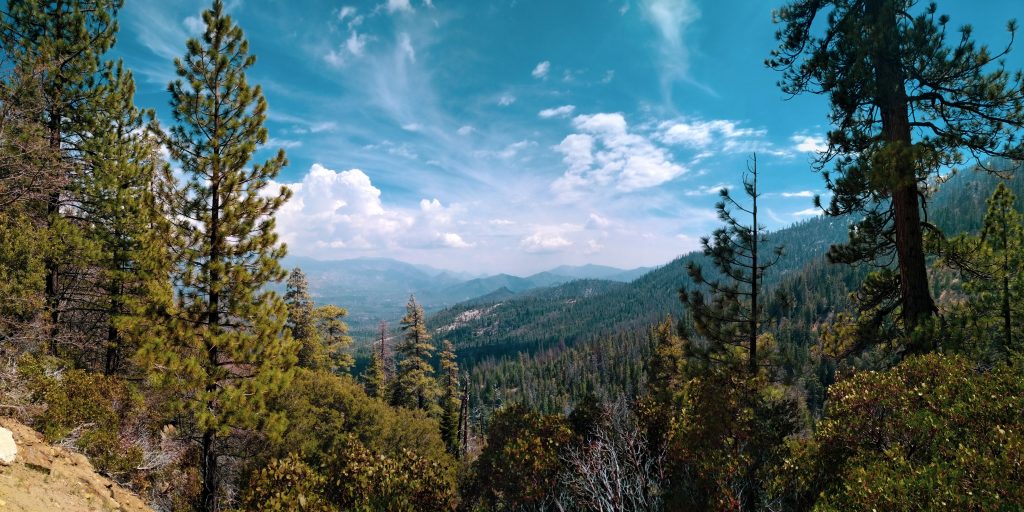 The next day I went to the Trail of 100 Giants. Yes! More Giant Sequoias. I now felt complete.
My trip was a success. I left Camp Nelson with such joy.
Heading Home
After the drive back down from Camp Nelson, I decided to go to the beach. It was pretty late, but I had to be at the Burbank Airport super early so I just stayed up over night. I love the beach at night. Being there watching the ocean waves I thought about how I saw so many different terrain while on my trip. Cali really does have it all. It's a pretty cool state. I ended my trip in this 24hr diner in LA somewhere watching diner staff freak out about this dude that wouldn't go away and leave everyone alone. Hey, I was entertained to say the least.
What a great week. Every day was different, and each day was great.
Would I run the Yosemite Half Marathon again? No. But not because I didn't like it. Some runners there do it every year. I like to do different races. I like to make new adventures, and this trip was so good it really can't be repeated.