Visiting Cardiff, Wales!
I know it is the goal of many people to visit London, England one day. It's sort of like the goal to one day visit NYC. You MUST go to NYC when you're in the States, right? But there are more places in the USA than just New York City. As poor as an analogy as that is I felt extremely lucky to cross the pond to visit London, but came back a happier person because I visited Cardiff, Wales. I got to see a different side to the UK. I was able to breathe the best fresh smelling air I ever have, and I fell in love with the beauty of everything Cardiff.
History
A little history about Cardiff, Wales, to start it is the largest city in Wales, and also the capital city and sits on the south coast of the country. It officially became a city in 1905, but Wales itself has such a long history stemming back many, many centuries! Its origins as a city came to be because the port became a big exporter of coal. And a little fun fact: outside of speaking English, they also speak Welsh! And some are very proud of it, I might add.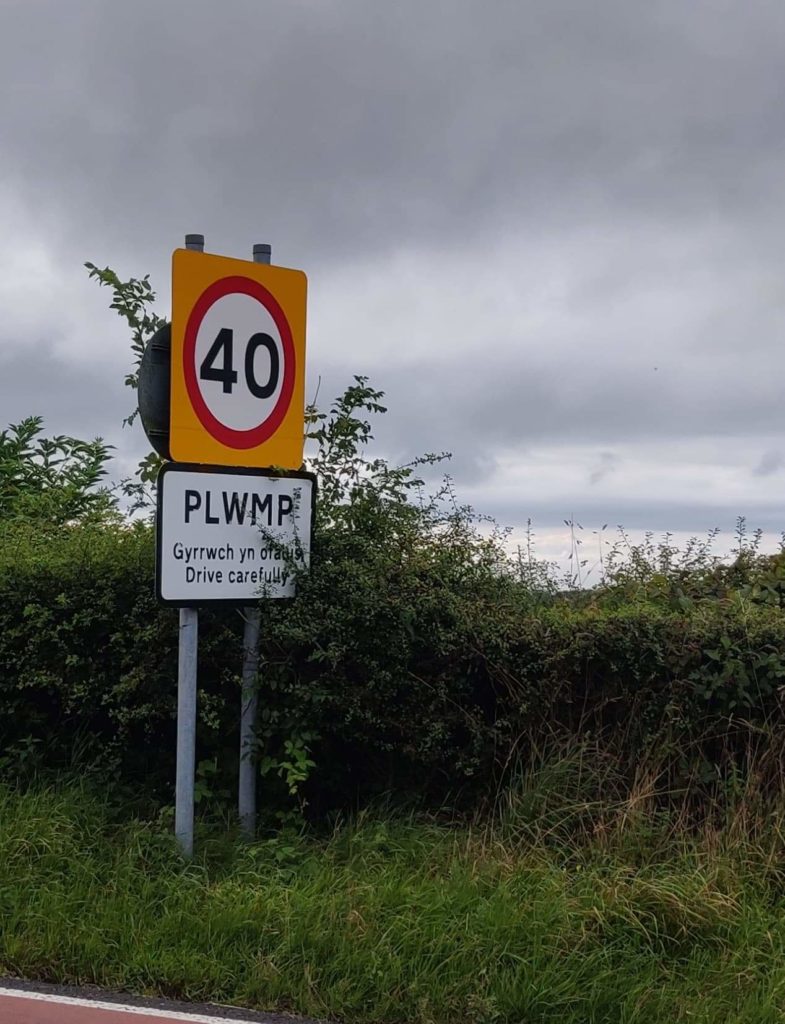 Getting to Cardiff
A simple flight search will quickly tell you that flying straight into Wales is not cheap. We're talking hundreds of dollars more than your average flight into the UK. So, how did I get to Cardiff? I flew in from NYC to Lisbon, stayed there a night, stopped in Brussels, then my next stop was Cardiff, Wales! My flight from Brussels to London was only $54. A flight directly to Cardiff was an easy $100 more, and let's be honest I'm on a budget here, as I'm sure you will be too. I had another stop on my trip and I needed to keep costs low. More details on my whole trip here.
After I got into London I took a bus from Heathrow Airport to Sophia Gardens in Cardiff. I took the National Express bus line. My ticket was $15 to Cardiff (and about the same getting back to London), and I booked my ticket weeks in advance because I don't want to scramble on transportation when I get somewhere new. That's probably the only thing I don't like to leave up to chance when I travel. It was a little over 3 hours on the bus. Some folks aren't really into riding a coach bus, but I love bus rides! I'd rather a bus ride over a flight any day. I get to see everything! I get to be with my thoughts, and relax before getting to my next destination. It gives me time to digest my last stop, and think about what I'd like to add to my next one.
Off the Bus
Getting off the bus from London was refreshing mainly because it was half a day's journey from Brussels. But it was also the fresh air. Cardiff smells so amazingly fresh! I couldn't stop taking big, deep, giant breaths in. It was as if somehow the air had more oxygen in it. It was intoxicating, and so pleasant. And that was at the bus stop! Outside of the humidity that totally wrecked my wavy hair I was sold on Cardiff already. It's very lush and beautifully green, and it doesn't get crowned the wettest city in the UK for nothing. This post by Wanderer of the World tells you all about the weather there.
Having a Friend in Cardiff
I always say that if you have a friend in a different country and they want you to come visit, cash in on that offer! There is nothing more awesome then visiting a city with a friend that knows it front to back. Surprisingly, he lived very close to where I was being dropped off, so close he just walked down the street to meet me! I didn't plan anything for my stay in Cardiff, mainly because I wanted to hang out with my friend that I haven't seen in years. I thought yeah, it would be a string of dinners and drinks, and wandering around. To my surprise he had a whole itinerary for us!
Day 1
After getting off the bus, and meeting my friend I quickly found my too pretty Airbnb. The host was nothing but lovely. Airbnb hosts can be hit or miss, but this woman was great. She asked about me, offered me all kinds of food, asked what I did, where I was from, and we found out we worked in the same industry! I must tell you that Airbnb's are a bit more expensive in Cardiff than in some other smaller cities. Out of the 4 cities I visited on this trip Cardiff was my most expensive stay. You might be asking why didn't I just stay with my friend? Well, being a person that wants my own space, I always feel as though the other person, regardless of who they are, will also want space. I figure a little separation is good even if visiting a friend.
My total came to $64, after my savings. Normally it would have been $119. When you open a new account you can use this coupon! I managed to save a few bucks on my Airbnb, by using a new email (Travel hack!) I saved $55. And that's nothing to put your nose up at. This was for 3 nights for just a private room. But don't do this too often because Airbnb will eventually catch on then ban you from using their site.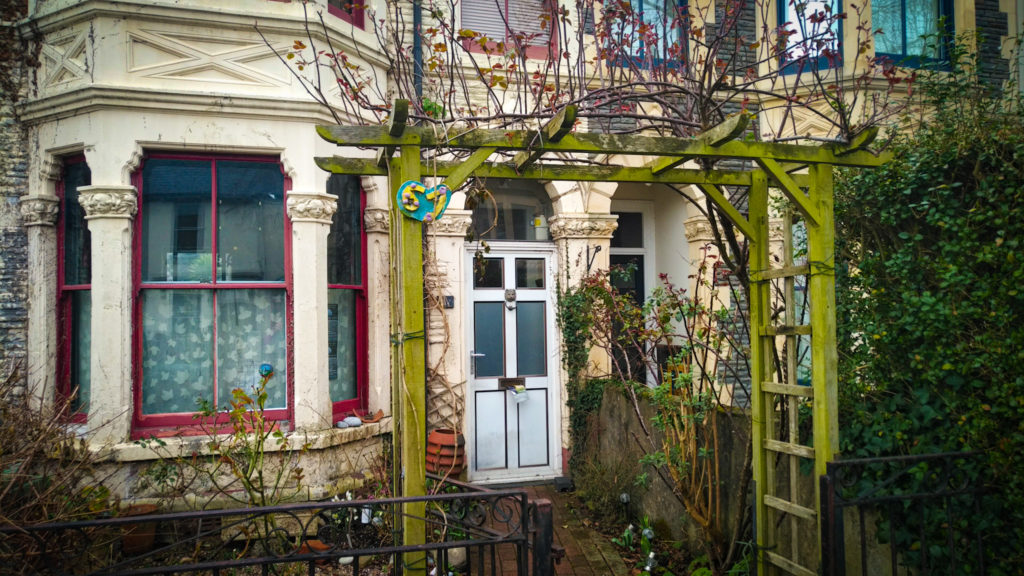 Run, Run, Run!
My Cardiff friend and I like to share our running adventures, and on this trip I told him about my runs in Lisbon and in Brussels before getting to his city. Running in Cardiff was next on my list. I got in around 4pm, and he decided he would take me on a small running tour after I got settled in.
Where he lives, the park is right across the street. That's my dream! He is very lucky, but does he know it?!
I think "park" is not the proper word, because it really is this huge area of just nature, trails, trees, the river, tons of greenery, and just beautiful everywhere you look! Pontcanna and Llandaff Fields were a dream to run. We ran for about 4 miles, my jet lagged self couldn't do much more than that.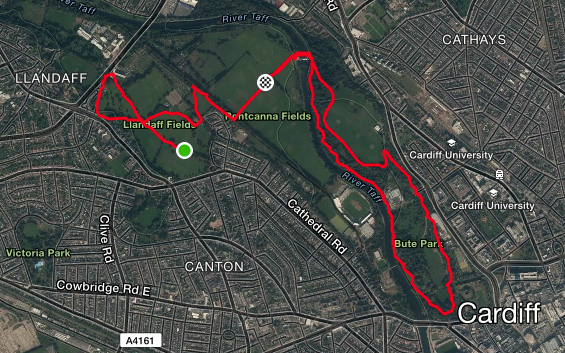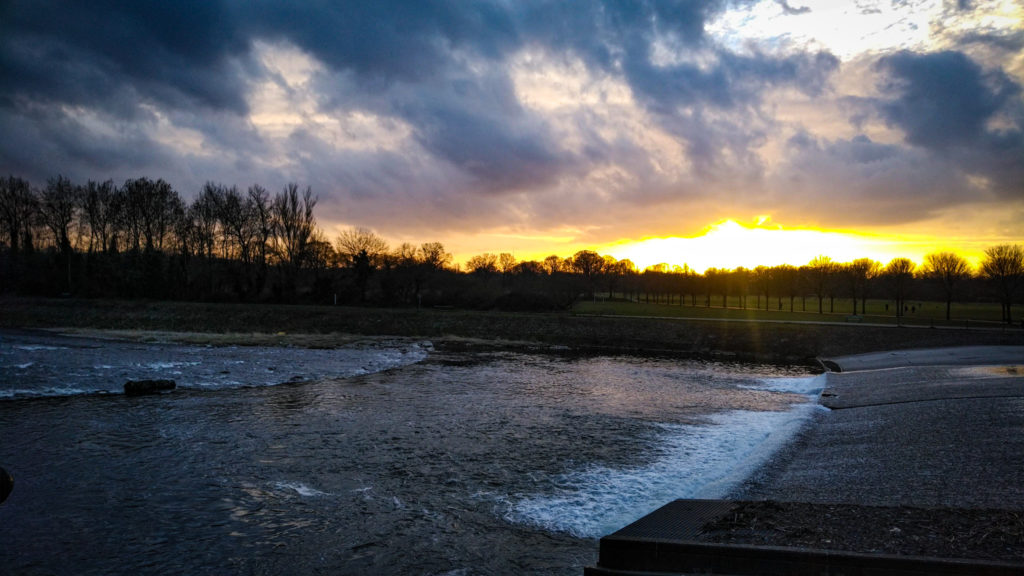 While I was running I was in awe by all the new things I got to see, how pretty everything was, and it was all the more shocking how this was all happening at the end of February!
Post Run
After our run, we got all cleaned up and went on the quest for some proper Indian food. I love Indian food, and they do say Indian food in the UK is top notch. I can attest to this. If you are in the UK – get Indian food, you won't be disappointed. We went to the Spice Quarter, and I was very happy with his pick. Indian is also a usual safe bet for people living that gluten free life. I have Celiac Disease so I completely understand the struggle of eating, let alone the stress that can be involved with eating while traveling. I usually double check to make sure it's gluten free because sometimes once in a blue moon an Indian restaurant might use wheat flour to thicken their sauces. This mistake, I will never forget I made in London on the same trip days later. Read about that here.
St. David's Day
I must add that the weekend I was there it was coming up on the celebration of St. David's Day (the patron Saint of Wales), so flags and Daffodils (Daffodils being the national flower of Wales) were out in full force, and I loved it. When you visit a new city/country you definitely don't mind the patriotism out and about. And to see a flag that has a dragon on it everywhere is fine by me.
It's pretty much like America's 4th of July. Flags are out on almost every house and flag poll then the day after it all gets put back in storage, at least that is what my friend confirmed.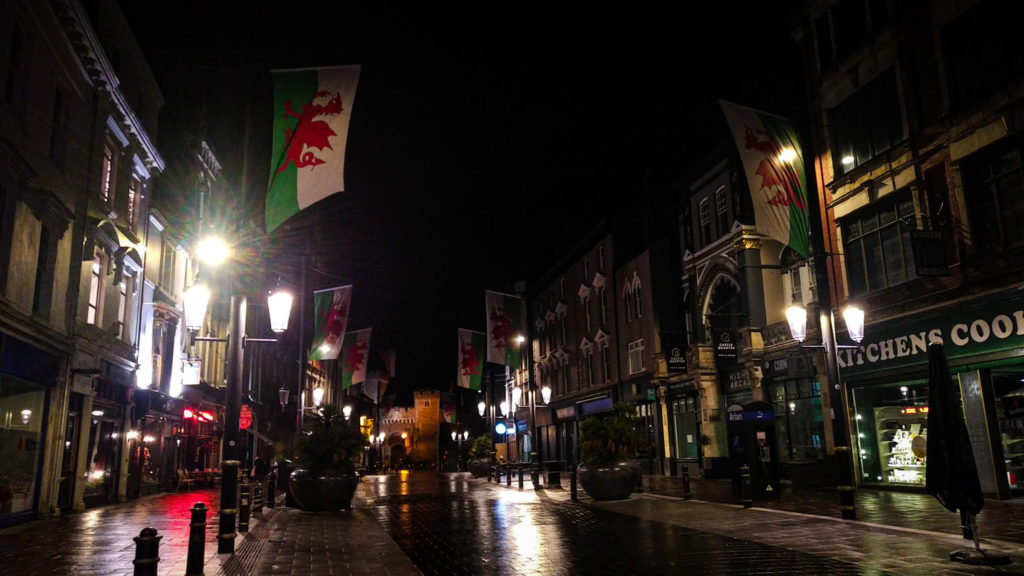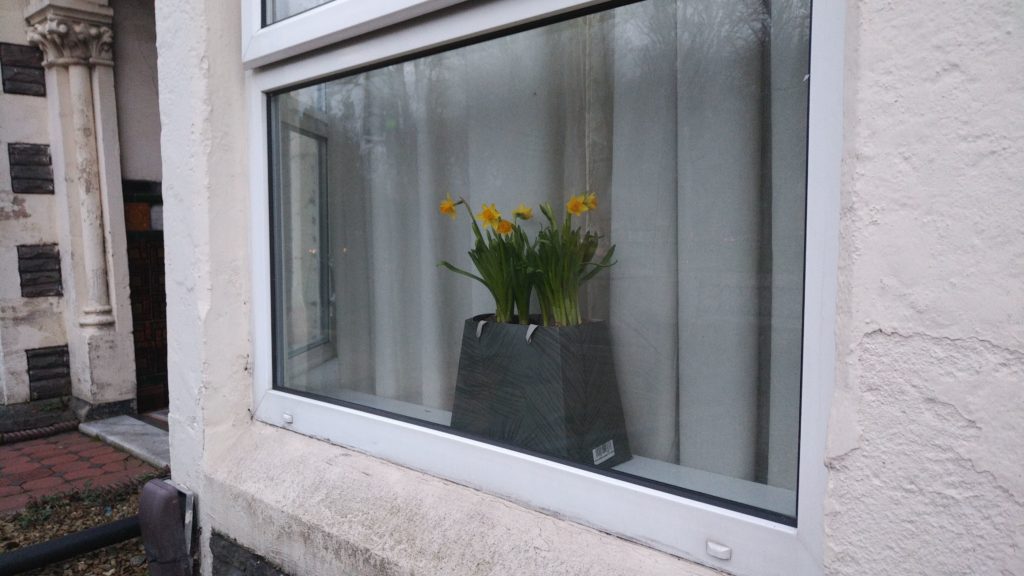 Headed to the Bar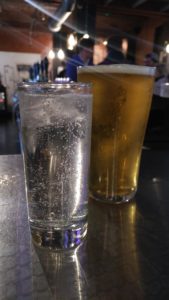 No night out is complete until you've had a pint! Well in my case not a pint, but a nice drink. I had to forgo the beer because of the whole Celiac thing, but hey, we can definitely drink too. I went for my go-to vodka and soda. There was no way in hell I was about to ask about gluten free beer in a Welsh bar. They barely have it in the States, no way I'm asking for it overseas! Yes, there is a shaming that is involved when it comes to being gluten free. We can't go there in this post unfortunately.
A bit of bar hopping was due. And there are so many good bars in Cardiff! And by good I mean great themes, very different in style, different layouts, decor, so drastic that every bar we visited in the couple nights I was there were not the same in the least bit. Maybe it was him making sure not to hit up a bar that seemed similar, but dammit he did a great job making sure there was a good variety.
Bars are not like this in the States. At least not in one city block. Do you know how many Irish pubs I have walked into in NYC and they all had the same look, layout, and decor? Even the upscale bars, same style, drink menu, and atmosphere. You really have to dig deep and do your research, along with trekking around uptown to downtown, west side to east side and even cross boroughs to get the variety I got in the few blocks we roamed around in Cardiff. Quite amazing. We'll save bars you need to visit in Cardiff for another post!
Day 2
The first day, (or half day) was pretty damn good. A great run, lovely scenery, food, and drinks – I was a very happy camper. It might have been the air, but dare I say I was euphoric!  I even thought how can tomorrow be as good as today? Well Day 2 was even better!
Breakfast
My friend for the next day wanted to make me breakfast, and I will never forget looking at the bacon. Bacon around the world is never and nothing like the bacon you find here in the States. Cardiff had me reminiscing about bacon I had 10+ years back when I was in Australia. I LOVE bacon overseas, and Cardiff didn't let me down!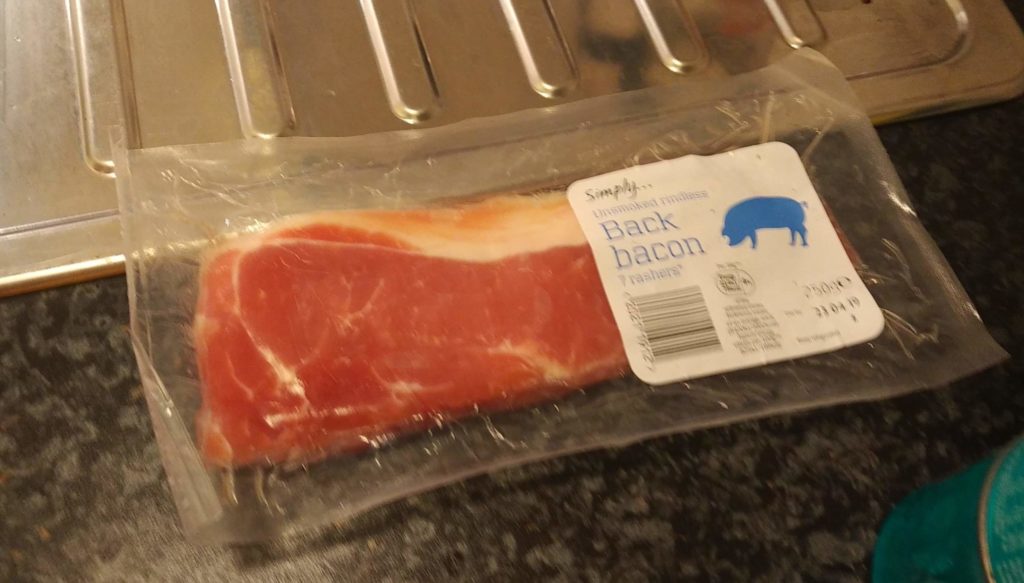 I should add, while I loved the bacon I had for breakfast, me being a big tap water drinker back home in NYC (best tap water in the world!) I hated the water in the UK!!! In general anywhere in Europe has very gross tasting tap water. Yes, in most European countries the water is safe to drink, but it's definitely not, by any stretch of the word, enjoyable to drink. My friend had this stuff called cordial that he put in his tap water. When he asked me if I wanted some for my water I didn't know what it was. It basically gives the water a nice slight color and sweetens the water to make it passable to drink. I looked at the bottle it's basically a small concentrated drop of kool-aid. A spoon full of sugar helps the medicine go down?
Bike Ride
After Breakfast we went on a really fun bike ride. I love bike riding, but my lovely Cardiff friend is, I would say, a seasoned cyclist. And that's putting it lightly. On our bike ride he wanted to show me castles! If you go to Cardiff you can't miss all the castles. Some of them you have to search far and wide to find them, but there's one right in town, and others aren't as far away to get to. The castle below was a nice paced 45 minute bike ride north of the city center of Cardiff.
We rented bikes for our ride. We used NextBike and the prices were beyond reasonable. I think for the few hours we were out it only cost us £12 for the both of us.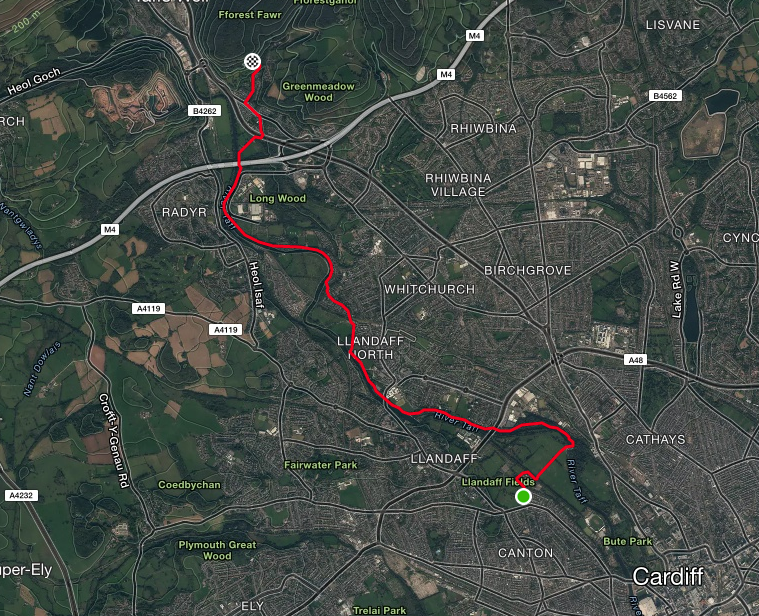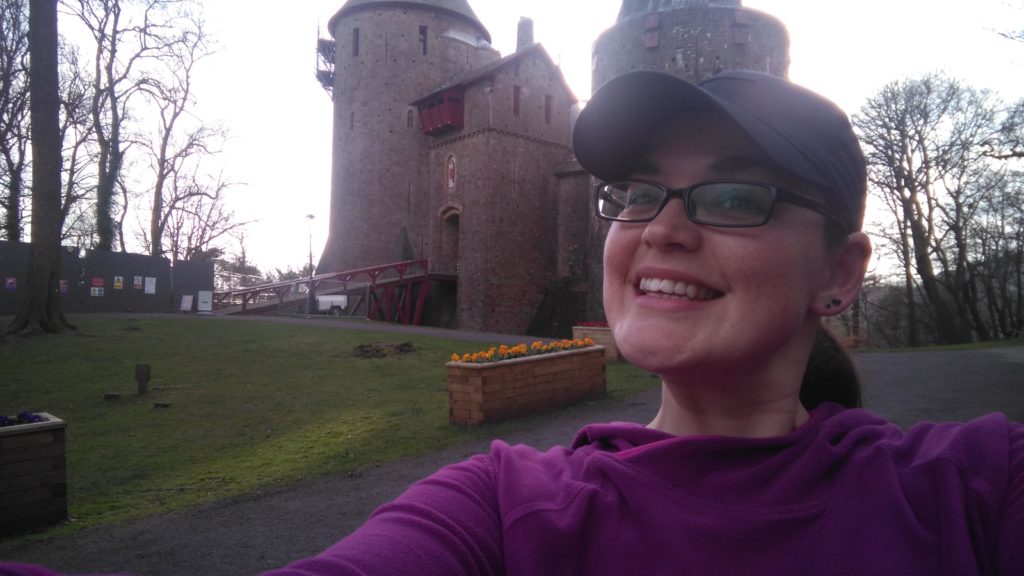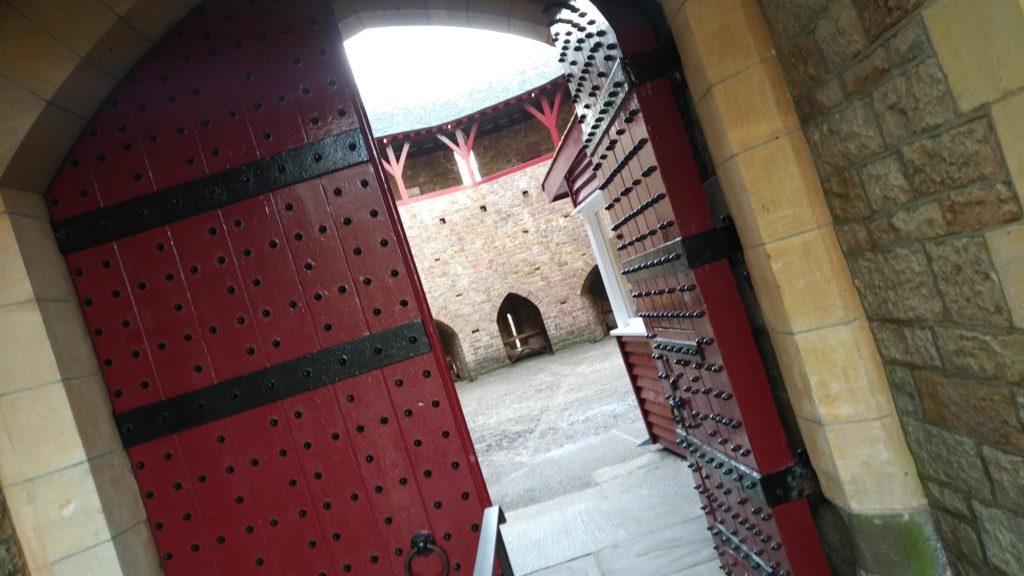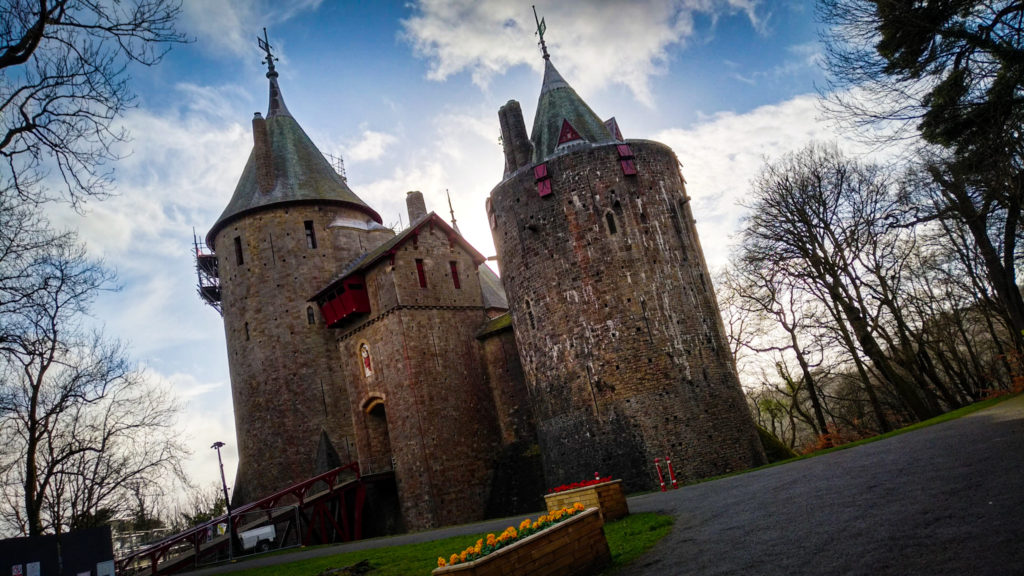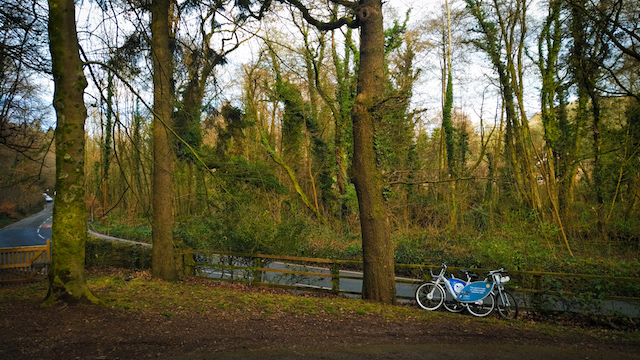 Above is the Castell Coch (Red Castle) and our bikes that we rode to get up to the castle. It was indeed uphill, but not at all a difficult ride. Totally doable for someone that doesn't normally ride a bike. I don't regularly ride a bike. Sadly I don't own one anymore, and I was ok. I encourage you to take a bike ride up to the castle! And if you are looking for a more challenging/longer ride head further up north to Caerphilly Castle.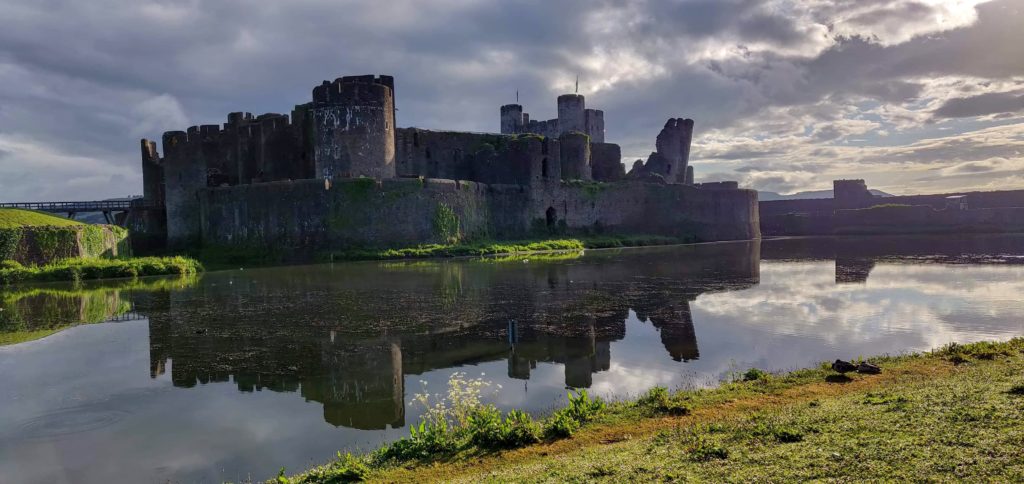 Post Bike Ride
After the bike ride we got all cleaned up and headed out for dinner and drinks. Of course this go-round didn't disappoint either. The bars were again great, and we never went to the same bar twice, and I was amazed once again at the variety. This time we went from fancy foo-foo drink style bar to dive bar to super fancy bar with super fancy named drinks where I didn't understand the ingredients that went in them.
We would walk back and forth into town. It was about a 20 minute walk from where he lived, and where I stayed. On the way we passed the Cardiff Castle right in town, the Principality Stadium, all the shops, all the weird parking that happens, the amazing looking houses, and all the flags, people, and Daffodils.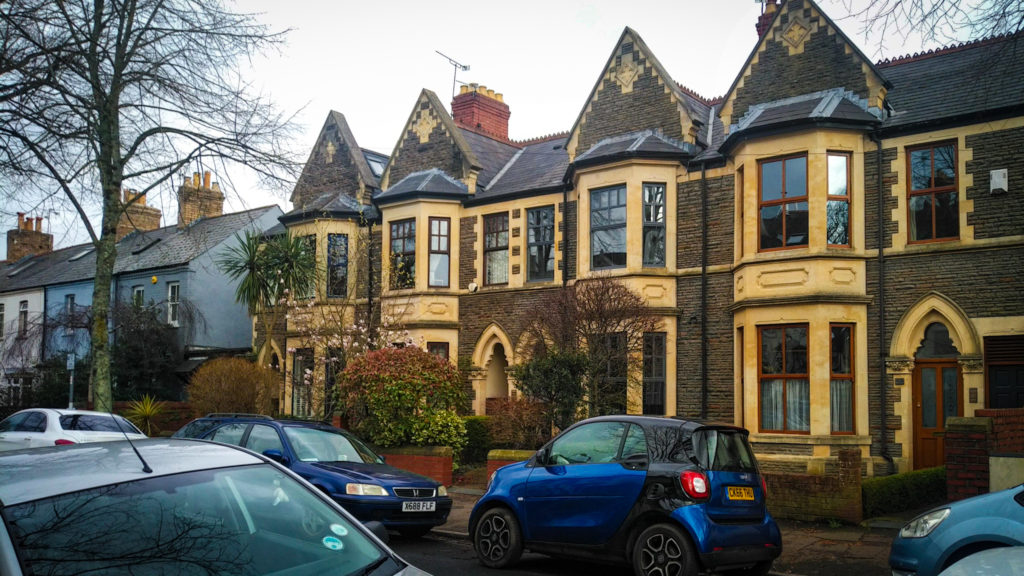 Day 3
On my last full day in Cardiff we decided to venture out more and headed to Cardiff Bay by way of Aquabus! It was a cute lil ride down the River Taff. With Storm Dennis (news about that here) hitting Cardiff hard some of the landing stations were damaged so a lot of the private companies went out of business.
We got lucky weather wise with most of my stay in Cardiff, but by day 3 it was due to rain. The clouds were out, but that didn't stop us from exploring a bit more. Cardiff Bay is of course again a pretty area, lovely views, but this area is a bit more developed and slightly touristy. That is one thing I do love about visiting Cardiff vs London, tourists are almost non-existent in Cardiff at certain times of the year.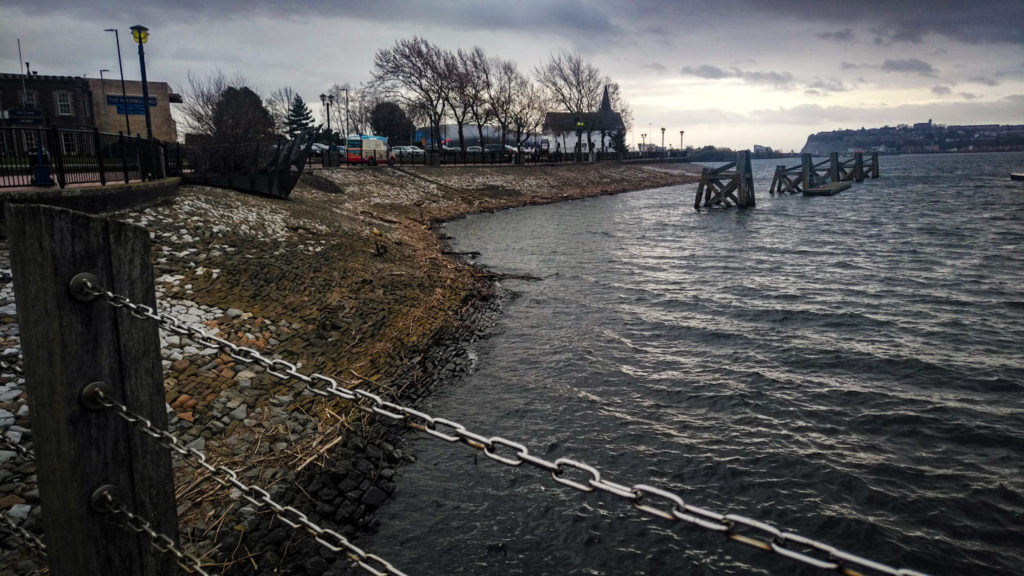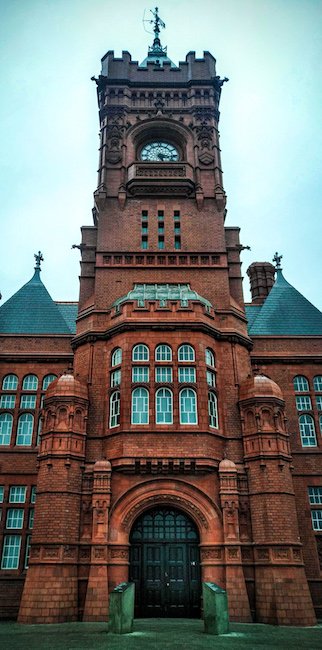 My time in Cardiff was wrapping up. 😢 I didn't do any museums, although there are some worth seeing. I try not to fill my travel itineraries with museums. I like to not look like a tourist as much as possible, and I can only see so many museums before I get bored. I'm sure if I had more time I would have taken my friend up on his offer to get more culture. I decided on nature instead, and do not regret it. My only regret is not being able to stay here longer, to get to know more of Wales.
I love this post from Wandering Everywhere. She is Welch and she really gives you the overall inside look to Wales, not just Cardiff. And she's going on an amazing expedition to walk around Wales! I am very jealous of her upcoming adventure. You can check out her post here to learn more about it. I appreciate how she's diving deeper to get to know her country. She really inspires me to do that same in my country.
Have you stayed in Cardiff? What was one of your favorites things there? Tell me about it in the comments!