The Airbnb Reality
Airbnb took the traveling community by storm with their cheaper prices, and their cozy digs, but not all Airbnb's are created equal! My recent trip to California, this past May, I stayed in several Airbnb's and each one felt so different from the last. I had all types of experiences, warm welcomes, to just feeling like I hit up my nearest motel on the highway. What makes the difference between a great Airbnb, and a "just okay" Airbnb stay?
This isn't really a pros and cons list about Airbnb, I'd check this link out if that's what you're looking for.
Why Do I use Airbnb?
I use Airbnb for just about all my trips. I don't waste my time with hotels. The price usually is the main reason, but I have to say variety is a huge factor for me. I know that each Airbnb will be completely different. I love meeting new hosts, seeing a new neighborhood, and then seeing the style of a place. You just don't get that with hotels. I also enjoy how each host handles their Airbnb business. Let's face it, if you have a spare bedroom you can make some decent cash every month making it available on Airbnb, and not even have to see a single guest! I wouldn't do it that way, but ya know some people do.
Price
On the price scale, Airbnb's are not the cheapest, but I think that you will get the most for your dollar. If I were super frugal, I would just book hostels everywhere.  Hostels are not my speed. I'm too introverted for that.  However, I did stay in a hostel on the trip I am referencing as well. I registered for the Yosemite Half-Marathon, and I turned it into a whole week trip. I couldn't just fly in, do the race, then fly out like I discovered some folks did. That, to me is crazy! I'm not flying across the country to spend only 48 hours somewhere that I've never been. That's no fun. It wasn't all bad staying at a hostel, but man I kinda wish I didn't go with the "suggested places to stay" on the Vacation Races site. I trusted them, and I won't say I got burned, but I usually fare better when I find my own places to stay.
An Average Stay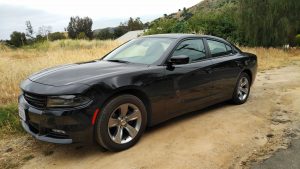 I flew into Burbank, California on May 8th, got my rental car, then headed to my first Airbnb. Which I got lucky because I had one of my flights canceled, and then another one delayed so, the rental place canceled my reservation, because I was so many hours late, and never called them! Lesson learned.  But, they hooked me up with a Dodge Charger!
I decided to hit up some random spots on my way up to Yosemite. Castiac, CA was my first stop. My host was really sweet, and greeted me when I arrived, and showed me around. I had a private bathroom, with a hot tub! I wanted to use it, but it felt so wrong taking a bath in California, ya know the drought and all. The layout was weird because you walk into the bathroom, then it led into the bedroom, but with no other entrance/exit. I felt a little cramped in the room, but I was only staying the night so, it didn't matter to me much.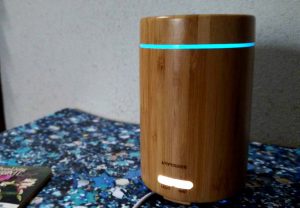 She had a portable heating/AC unit, which is great! I'm glad she had that, but wow, that thing was loooooud! It wasn't worth having it on. I opted for another blanket instead. The essential oils diffuser was the best! I don't know why I thought this was such a nice touch. Did I use it? Yes! If she didn't mention it I might've not used it.
Check – out was pretty nice, she said I could leave when I wanted. That kind of flexibility is pretty rare. I'm thinking she didn't have anyone the next day. All in all a decent stay. Nothing to really to be upset about at all.
The Business Transaction
We all know that Airbnb is a business, and a lot of folks treat it like that. I can't blame them, but damn when you deal with people at least try to make it personal. I've stayed in some janky places, and dealt with an Airbnb stay where my bed was on literally on those wood pallets and that stay was waaaaay better than this one.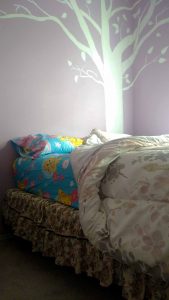 My next stay was in Fresno, CA. I actually left a gap in my accommodation and forgot that my hostel stay in Yosemite started a day later. I just booked something really quick, and thought "yeah, I'll check out Fresno, never been there, why not?" So, I found this bizarre pinkish-purple room, for a pretty decent rate. I kinda liked how it was that color. When I got there it was like I walked into a revolving door of Airbnb guests.
It was clean, in a nice neighborhood, the entry was the punch-code lock, and it was a nice, bright room.  I never saw a soul. No greeting. Which can be ok in most cases. Everything had a label! There was even a label that said "caution, very hot!" on the electric kettle! Makes me wonder about who they had there before. The sheets! Man, the sheets were what got me. They're hilarious!
The instruction sheet was very cut and dry, and even told guests to not touch the walls because of the paint job. I just thought this stay was the ultimate cold experience. Super strict. I felt like if I did anything they were gonna leave me a bad review.
Check-out
To check-out I had to leave the key in the lock to let them know that I had left. Check-out was at 10am. Well, at 7am I was woken up by an older lady just barging in the room, and then quickly trying to scurry out realizing that I was there. So, with the walls being child like, add the cartoon sheets to that, now I really felt like a 10 year old with being woken up by a mom in the morning! It was the ultimate flashback experience.
I'm not sure why they thought I was gone, because I didn't put the key in the door lock. Maybe it was my fault for not locking my door? I imagine if it were locked she would have unlocked it anyway. All-in-all it was an amusing experience where I felt like inventory and not a person.
Long Lost Relative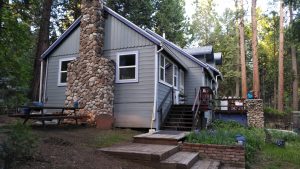 After my hostel stay near Yosemite, I headed back down to Camp Nelson, in Sequoia National Forest. I couldn't wait to stay there, and you could tell that the host couldn't either. The host was Paula, the mere fact that I remember her name says a lot. I have never remembered a host's name before. She greeted me right away, she was more chatty than I was ready for, but she was great to talk to.
At her place there was no cell reception, and she also didn't have wifi. I knew that going in. I didn't mind because I was there to be in a cool forest! She knew her guests didn't have cell reception and let me use her landline phone. I thought that was more then generous.
Paula immediately told me what was nearby, there was all kinds of info there about the area, and she was a great resource. We started to talk about the Giant Sequoias, the reason I was there, and she told me about a grove of Sequoia's only 2 miles away!
I found said grove, wondered around the town a bit, found my way to the only tavern in the town, and Paula was there inviting me in! We had a couple drinks, while her and the bartender told me all the town gossip! They aren't lying when they say everybody knows everybody in a small town.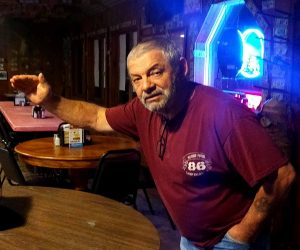 Not Enough Time
I was only there a day and a half, but I got to know Paula really well. We talked about all kind of things! I loved hearing about her life. It was as if she was my long lost great Aunt or something. It felt like I was visiting a friend I had known for years. Also, it turned out we had a mutual friend, funny enough.
Her personality, and hospitality trumped every other amenity that she had. I mean my room was great, bed was comfy, and I had a great private bathroom, Paula loved people, and you could tell. It was a great stay that I'll never forget.
Not a Bad Trip at All
As a whole my trip was great, I know for some the accommodation can really make or break a trip. I took everything with stride. The way I travel I kinda feel like I have to go with the flow. With Airbnb it really is a crap shoot. The photos, and description tells you zero on how the host with treat you. The reviews definitely help in that area, but you never know until you walk through the door. I got such a wide range of experiences this trip, and wouldn't take any of them back either, even the place that made me feel like a little kid, I mean the sheets were cute though.
What makes a great Airbnb? Of course it's the people. It's all on the host, and how they treat you and how they want to treat their business.
Tell me about an Airbnb stay that sticks out to you. I wanna hear these stories. Comment below!
Want to contact me? Do it here!