My Review of Senza Gluten Bakery
Being a person with Celiac Disease once we go gluten free it is very hard to find really good, tasty, satisfying treats. I use to eat a croissant everyday! How I miss those delicious, buttery, little guys. I'm always on the hunt for places that have a variety of gluten free baked goods, and I have to dig deeper to find the places that are exclusively a gluten free kitchen – where all they make is gluten free food. Senza Gluten is one of those places where regular wheat flour doesn't even enter their place of business!
For Celiac folk this is heaven sent! There is always a sense of relief when we find places like that, and if it tastes great it is such a blessing. I won't lie to you, being a person that tries their hand at cooking and baking it is not easy to make great gluten free food. So, needless to say when I do find a great place that delivers flavorful treats with a good texture I truly do appreciate them!
Senza Gluten
Senza Gluten is a restaurant, but they also have a bakery. They are located in the West Village in NYC. It has been my goal to visit their bakery, but things kept getting in between me and those baked goods!
They are located: 206 Sullivan St, New York, NY 10012
In these times of quarantine Senza Gluten is delivering everywhere! I jumped on this opportunity as I saw someone post about them delivering in Reddit.
My Order and the Shipping
6-Mini Chocolate Chip cookies, 6-Mini Sour Cherry Scones, 4-Blueberry Muffins, 4-Banana Coffee Chocolate Muffins.
I live right outside NYC in NJ, and I paid $15 for shipping. I figured that isn't bad since they are actually shipping perishable food. Us Celiac folk are prepared to spend the money because living gluten free is way more expensive unfortunately.
The quantity for each item was present. Since I wanted muffins I got 4 instead of just 1. This makes sense for Senza Gluten on a business stand point.
I got way more than I ever could have wanted because I figure I can freeze them for when I want some later. And I know I won't be making any trips to NYC anytime soon.
It's ships frozen so, know that going into this. There is a package of dry ice included. When I received my package the dry ice was gone, and all the goods were thawed.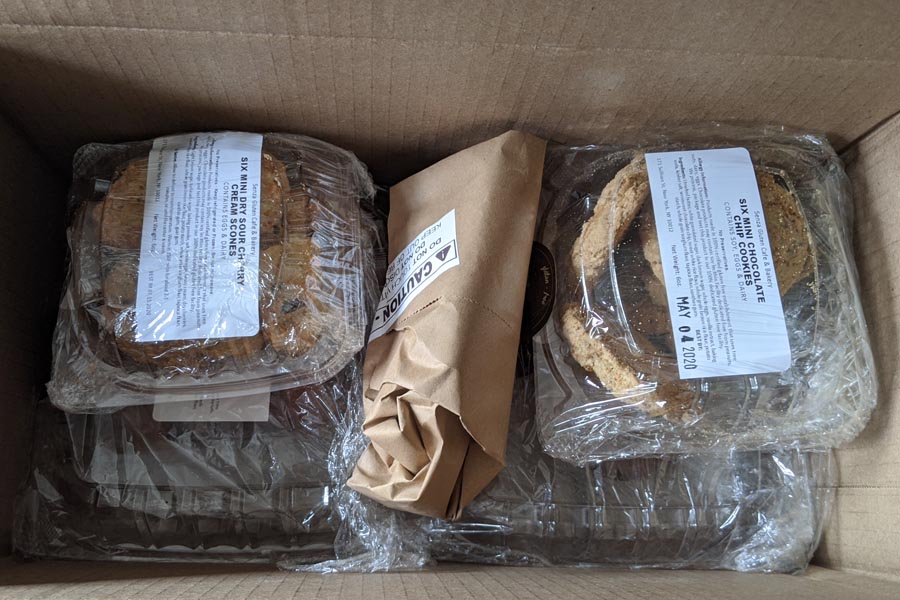 They came in plastic boxes, with cling wrap around that, which made me happy because it will preserve way longer. It'll make sure to stay fresh for when it actually arrives.
I ordered late night on April 17th (Like reeeeeally late at night so, I'd say the order processed on the 18th.) Senza Gluten recognized my order by April 19, and I received the goods on April 21, 2020. I wouldn't say that's bad timing at all considering all shipping companies are bombarded.
All the packaging had labels, and listed the directions, expiration date, and the the ingredients!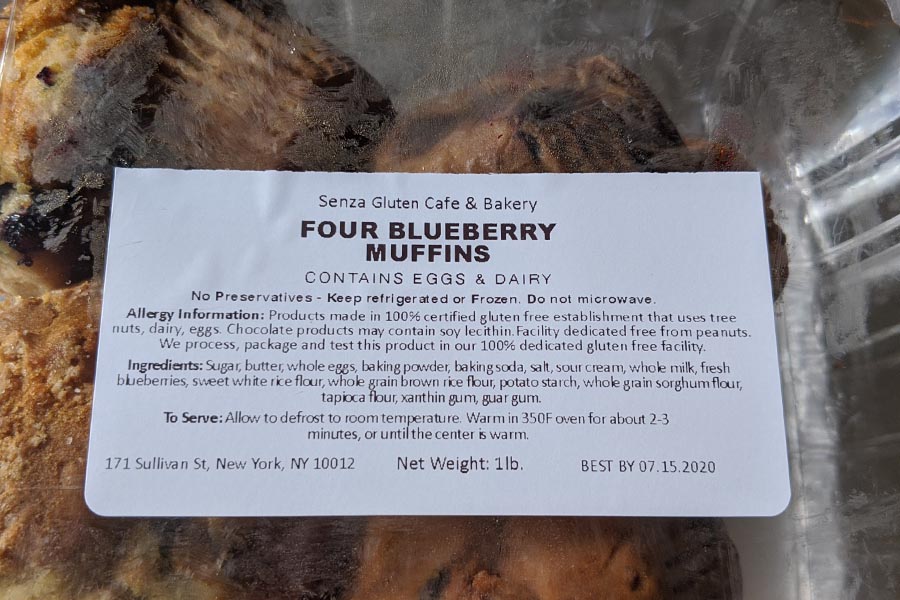 Mini Sour Cherry Scones
I wanted to start with the one treat I haven't had in ages, and these smelled great I couldn't wait! I ordered the mini version because I didn't want too much product in my freezer for later. Sadly, my freezer is pretty small.
The diameter of the scones were about a little over the size of a quarter. And it is a nice little portion.
They had the perfect balance of dryness and chewiness that come with a scone. Way more moist than expected. I was pleasantly surprised. I would definitely recommend these scones. It reminded me of the amazing scones at Balthazar Bakery before I was diagnosed and full on gluten free.
The sour cherries were just sweet enough, and tart enough to pair well with the dough it's baked in. Very nice balance. Very happy I got these.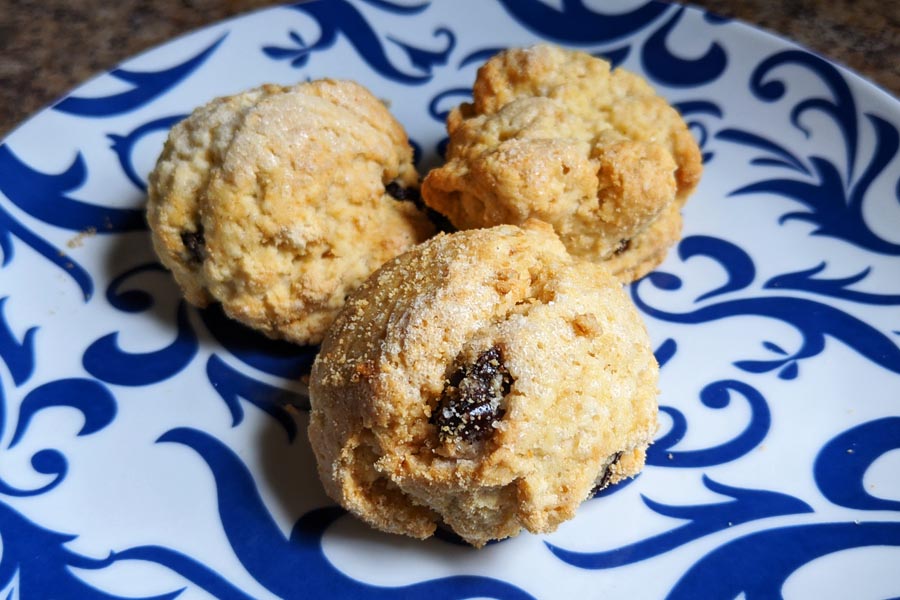 Mini Chocolate Chip Cookies
I feel like I am cursed when it comes to chocolate chip cookies. I can make a lot of gluten free things, but these cookies are not one of them. I'm fairly picky about my cookies too. I prefer a nice thick chewy cookie. Others might prefer the crunchier type.
These cookies were the crunchier type. So, needless to say I wasn't a fan. They did taste good. There wasn't a weird graininess that may come with gluten free cookies either. But I'm just not into the dry crunchy type of cookie at all. They reminded me of a Chips Ahoy! Cookie a lot – not the chewy type of course. Ya know, the ones that comes in the blue pack.
The size of the cookies felt like regular sized cookies, I find it funny how they were called mini. What do their regular sized cookies look like? They were about an inch and half diameter. Pretty decent sized cookie.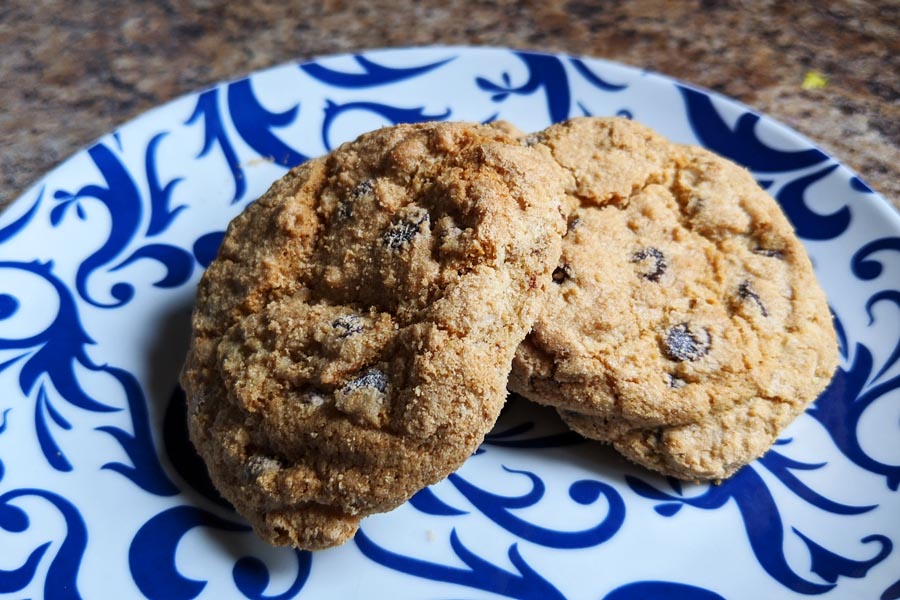 Blueberry Muffins
I got the blueberry muffins not because I like blueberry muffins, but because they are a baked good staple. I've had many of these blueberry muffin. Gluten free muffins tend to get really crumbly. Just when you get the paper off of them they practically disintegrate right before your eyes and then poof! It's all over the floor…or you. They can also tend to have a bit of grittiness to them. This muffin stood up to those second rate gluten free blueberry muffins.
The taste was very pleasant. You can really taste the freshness of the blueberries! A nice potent taste. They were also not falling apart at all. I felt like I was eating a real muffin! The only thing I did notice – because now I have to nit pick, is there was the smallest of grittiness. Like a scoop of cornmeal made its way in to the batter by accident. It didn't ruin my experience, because it's still a solid muffin overall. I did check the ingredients and there isn't cornmeal it in so, not sure where that came from.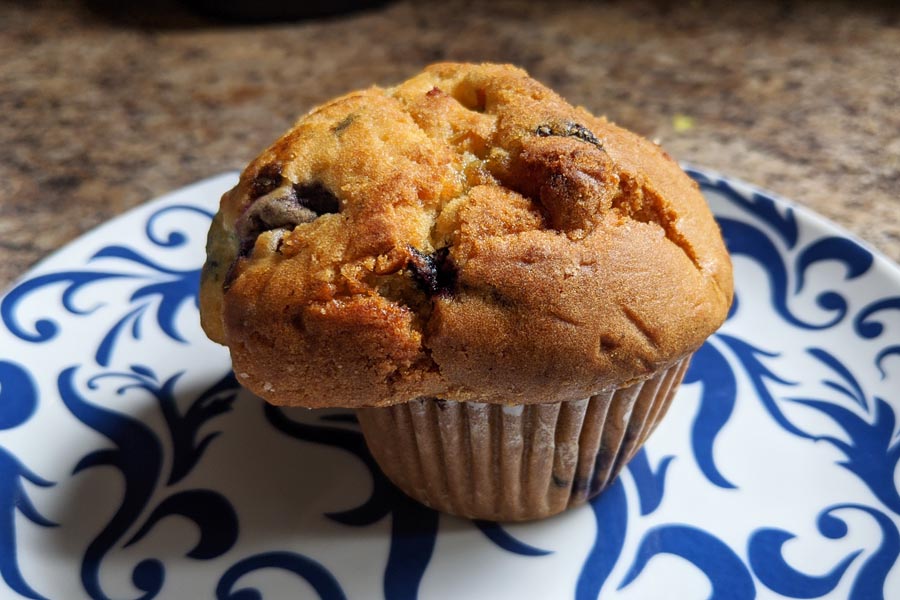 Banana Coffee Chocolate Muffins
This is my first time trying this type of muffin, and I must say I am now obsessed! They are without a doubt my favorite. Zero complaints about this one. As far as I'm concerned this is a perfect muffin. Smelled amazing, tasted perfect. Banana is usually used in gluten free baked goods so I was ok with it, but there was no overwhelming banana flavor. The combo of the banana and coffee balanced each other out. But the chocolate chips in the muffin dominated everything taste wise, and it's a great thing! Just the way the chocolate melted in your mouth was so great. Such a flavorful muffin overall.
The muffin stayed together well, no grittiness at all. Which makes me wonder because it seems to have the same base ingredients as the blueberry muffin.
Top notch muffin, not just a top notch gluten free muffin.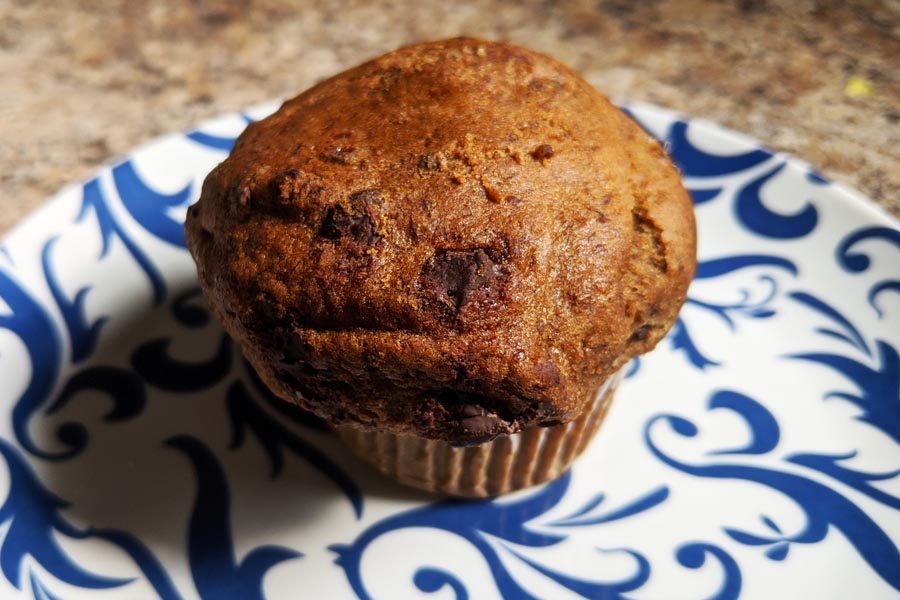 Days Later
I put half of the baked good in the freezer, and the other half stayed out for the next few days so I could see how they dealt over time. For the most part if I don't eat whatever gluten free goods I bought that day they will be hard as a rock the next morning no matter how I wrap them or store them away.
I kept all of these in the plastic container it was shipped in without the cling wrap it came in. Totally testing the gluten free gods here.
I just ate a muffin that was two days old, and it was 90% of what it was the day it arrived. Just slightly dryer, but very good for holding up a couple days later. The next day everything tasted exactly the same!
Overall Rating
I liked how Senza Gluten took the utmost care into their shipping. The speed in which I got my package was good, and the products did not disappoint. Accept of course for those cookies, but I feel like I can't even count those because they weren't my style. I'm sure there are people who are going to love them!
I also loved the detailed instructions on thawing, how long they are good for, and how they listed the ingredients of all the products. Which if I were to actually walk into Senza Gluten I wouldn't get that.
I would 100% recommend them to my Celiac friends, and I will definitely be ordering from there again.
They get 4 out of 5 croissants!

Have you tried anything from Senza Gluten? How about their restaurant? Tell me in the comments below.  I can't wait to go there once the worlds gets back to normal operations.
Make sure to Subscribe to my blog to get updates on when I post my next review of tasty Gluten Free food.